Bridal Hair: $120*
-High grade professional products
-Shimmer shine finishing spray
-Veil/accessory placement
Bridesmaids, Moms, Friends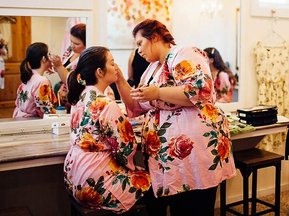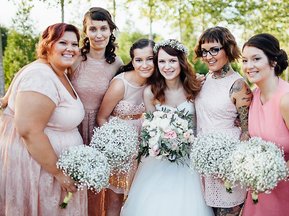 Attendant Hair: $90

-High grade professional products
-Shimmer shine finishing spray
-Accessory placement
Junior Bridesmaids & Flower Girls (10 and under)
Hair $55*
-Curls, simple briad or style, finishing spray, shimmer shine spray and accessory placement
Trials are done at our salon.
$50/hour for travel per artist/stylist.
Minimum of 3 services per artist/stylist.
Exceeding 3 services may call for an additional makeup artist/stylist.
*Travel fee waved if services are held in salon.
Client agrees to specific number of services to be done, if for some reason the number of services isn't met, Client agrees to pay for said lost service regardless - or find replacement for lost service. Due to respective stylist/artist.
Please make sure the number of services requested is concrete. Half due at time of booking to reserve your date/time/amount of services.
Final payment due week of/before wedding/event date.
We are available for most days/times, typically taking our first clients at or around 10 o'clock in the morning. Any time before 8:30 in the morning is subject to an early morning fee of $20 per artist/stylist for the day.
Cash or Venmo is the preferable method of payment. We do not accept checks. Gratuity is not included in final cost.
With 50% down payment, this contract is binding and valid, and goes into effect immediately. Any or all verbal or written agreements are subject to this contract.